TARANTELLA IN BERLIN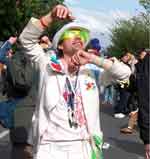 ©Klaus Schwerma
Just a few simple steps, a turn, that's all it takes.

In Calabrian Tarantella, for instance, when the dance master nods his head, two people break from the group, eyeing each other as they dance in the middle of the circle.
And in the "Pizzica", with its typical stamping steps, the deadly tarantula is chased away.
Meanwhile, Tarantella in Montemarano is danced with short, shuffling steps, mimicking those devout old women you see in religious processions.
And, of course, always the sound of tambourines and castanets in the background...